The Illuminated Promise

While living in Lancaster and Montgomery County, Pennsylvania, on through my B.F.A. years at Tyler School of Art in Philadelphia, I participated in the time honored art of manuscript illustration. I decided to put an ad in several local newspapers advertising my services. Parts of it read:

"Are you looking to mark a special occasion with an equally precious document? Is someone you know getting married or experiencing a life passage important to them? Consider recognizing these events with an original,hand-lettered and illuminated artistic document. "

Several couples and individuals came forth. The first was a Quaker couple getting married by "The Spirit" instead of a clergy member. They would state their intentions before God, who "witnessed" it along with those present. They wanted a plain document where all could sign it, but with the signatures written in a circle.

The second person to call was an elderly woman who brought out two photos, one of herself and the other of her recently deceased husband. She said, "We never had any pictures where we were both in them."  She wanted an image with both of them in it for this was one way how she needed to connect.

The third one to come was a Jewish mother who asked me to draft a Ketubah which was witnessed by close friends of their family and read under their ceremonial tent during the wedding.  The painting decoration was to match the embroidery on her wedding dress.

The last person to contact me was a man who was distraught  about the recent murder of his boss, a prominent  civic leader who was killed, according to the commissioner, because, "He wanted to organize a roofers union."  He was found covered in roses. "Why?" I asked... "Because he loved roses." 

It was always interesting to see how our diverse American community used art and symbolism to stay in touch with one another.

For my own wedding document I painted our favorite flowers and illustrated lettering in the artistic aesthetic of Scotland and Germanic cultures. I chose a blend of celtic art, illuminated manuscript and the traditional  art of the Pennsylvania Dutch, called Fraktur. A Fraktur is a term of German origin referring to the lettering used in European documents from the 13th century through the time of American colonization. The term eventually came to mean the document as well. These documents were often used in marriage and death ceremonies. I found this amusing.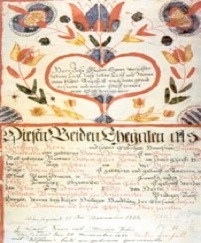 Most recently, I illustrated a document for a wedding that took place on a beach overlooking Acadia National Park with its majestic mountains. The couple had core yogic values they symbolized by the lotus flower in a dawning, watery seascape setting. The symbol of the oak was also an inspiration. These symbols of their love found their way into the document that would remind them of their vows to one another. An image of this piece is on the previous page
I am always taken by the authentic  ways we use to express our connections. I have enjoyed the process of collaborating on these projects. I look forward to the new requests.